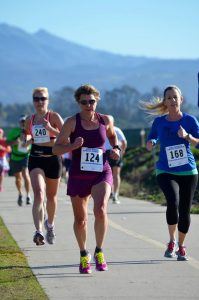 The Santa Barbara Runners Association (SBRA) offers a great way to start the New Year with an invigorating oceanfront 5K & 10K run or walk on New Year's Day!  Founded in 1979, the Resolution Run is a Santa Barbara classic race inviting friends and family from throughout Southern California to get the New Year off and running!
SBRA events benefit the greater running community, school and club running programs throughout Santa Barbara County. Since 2009, over $140,000 has been donated to our community.
5K (3.1 Miles) Run or Walk
10K (6.2 Miles) Run or Walk
New Year's 15K Double! Sign-up for one distance and do both!
Race Location & Times
Location: Leadbetter Beach, Santa Barbara CA.
Start times: New Year's Day – 9:00am for the 5K and 9:45am for the 10K.
Packet pickup/late registration opens at 8:00 am at Leadbetter Beach.
SBAA Grand Prix
The 5K run is the inaugural SBAA Grand Prix event. Compete against fellow runners throughout the year in Santa Barbara's best races! Become a member of the SBAA and sign up for the Grand Prix by going to: https://sbrunning.org/
Fees
Fees include a snacks & drinks on race day.
Race registration is just $30. If you are planning on doing both you still only pay $30
17 & Under participants are only $10! Your discount will be applied during registration based on your age on race day.
SBRA Members receive a $10 discount, making the race free for juniors!
Past Results
Results 2020
Results 2019
Photos 2019
Results 2018
Results 2017
Results 2016
Results 2015
Results 2014
Results 2013